At Shady Trails, there's nothing quite like the great indoors. Residents have their pick of amenities to keep it fun—while keeping it cool. And with two recreation centers to choose from, spoiled-for-choice is the everyday reality around here.
Start with The Parkhouse, where you'll find 15,000 square feet of space dedicated to your enjoyment—no matter what that looks like for you. If you're looking for some old-fashioned peace and quiet, grab your favorite book (or your latest crochet pattern) and head to the library or hobby and crafts room. Or to the games room if an adrenaline rush is what you're after. Table tennis or Foosball, anybody? For those of you who prefer to battle it out over a board game or two, you'll find dedicated tables for just that—Shady Trails has truly got your leisure time covered.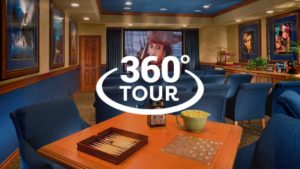 Take a Virtual Tour of The Parkhouse >
At the end of the day, if all you're looking for is a place to connect with your neighbors, head on over to the ground floor living room, where cozy seating and a grand piano await for an afternoon of conversation and musical merriment.
For best-day-ever vibes, why not get your gang together for a movie at the in-house theater, followed by a round or two of billiards at the dedicated billiards lounge?
Gym membership? No need! Head over to The Retreat or The Parkhouse to work it out at one of Shady Trails' two fitness centers. With plenty of weights, strength and cardio equipment, you'll find all your favorite ways to keep fit and work on your wellness around here.
Calling Shady Trails home allows you to be the host with the most. Entertain friends, family and neighbors with a soiree to remember at the multipurpose room (with an attached catering kitchen, no less) at The Parkhouse or at the reservable lounge at The Retreat. Don't forget about work colleagues—host your team meetings at one of two conference rooms or a private workspace at the business center.

Indoor spaces at The Parkhouse and The Retreat are your go-to for business and pleasure. Not to mention, Shady Trails places you within minutes of your family's favorite shopping and dining options—so skip the dishes and up your retail therapy game with some local indoor spots to enjoy.
There's so much to discover about the great indoors at Shady Trails, so book a tour to explore! Be sure to give us a like on Facebook and a follow on Instagram to stay updated on this exciting community.